Highly Skilled Construction and Remodeling Contractors in Leeds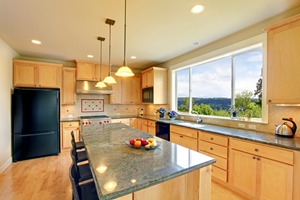 At A & S Building and Remodeling, Inc., our Leeds remodeling contractors are honored by the fact that so many local families and businesses trust us with all their remodeling needs. We specialize in both interior and exterior remodeling projects. Our professionals have the knowledge and skill necessary to design and build room additions and new homes. In everything that we do, customer satisfaction is our highest priority.
Call us today if you are planning a remodeling or construction project in Leeds. Our polite staff would be happy to assist you in any way that we can. We would be excited to schedule your consultation today.
Siding Installation in Leeds, MA
As a Leeds homeowner, you have an obligation to keep your property well maintained. One of the most important portions of your residence is your siding. It provides your property with protection from the elements while defining its overall look and appeal.
If you need to install, repair, or replace siding on your home, our exterior remodeling contractors are here to help. We work with all types of siding material including vinyl, wood, and fiber cement. With our assistance, you can keep your siding in the best condition possible at all times.
Roof Repairs and Replacements in Leeds
The roof of your home or business is vitally important. It is the first line of defense that your property has against adverse weather conditions and the elements. When your roof is damaged, you and your family lack the comfort and security that you expect and deserve within your home.
Our Leeds roofing contractors are ready to assist you with all your roof related needs. We can inspect your property to determine if repairs or replacement will be better for you. In either event, our experts will conduct the services that will add long term value and protection to your property. You are guaranteed to be pleased with the results.
Leeds Kitchen Remodeling Experts
When our professionals are hired for a kitchen remodeling project, we focus on two objectives. First, we aspire to make changes that customize the living space to the ways i which our customers use the area. Second, our team seeks to beautify the kitchen, turning our customer's unique vision into a reality.
Here are just a few of the exceptional kitchen remodeling services that we proudly provide:
Kitchen layout design
Kitchen flooring
Kitchen cabinets
Kitchen countertops
Kitchen appliances
Kitchen fixtures
And More
Exceptional Bathroom Remodeling Services in Leeds
Updating your bathrooms is a fantastic way to improve how you and your family use and enjoy your home. Like the kitchen, your bathrooms are a highly functional living space. As such, they should be customized to you and your family's unique needs. With the help of our Leeds bathroom remodeling contractors, you can turn these areas places of comfort and relaxation, helping you to start each and every day just how you want to.
If you are looking for a professional Leeds remodeling contractor for kitchen or bathroom remodeling services, please call A & S Building and Remodeling, Inc. at 413-230-9160 or complete our online request form.