Exceptional Kitchen Remodeling Services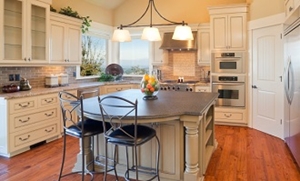 A kitchen remodeling project is one of the most rewarding home improvement efforts that you can conduct. Because you and your family use the area on a regular basis, customizing the living space to your unique needs is fantastically beneficial. Updating the aesthetic appeal of your kitchen allows you to take pride in the look and feel of your home. At A & S Building and Remodeling, Inc., our North Hatfield kitchen remodeling contractors are here to help you achieve all of your goals.
If you are planning a kitchen remodeling project in Hatfield or the surrounding area, call A & S Building and Remodeling, Inc., today. Our courteous staff is ready to assist you in any way that we can. Our knowledgeable experts would be happy to discuss your prospective project with you and to answer any questions that you may have about our skills and services. We can schedule your appointment today.
Kitchen Design & Layout Renovation
Our highly skilled kitchen remodeling contractors can completely redesign the layout of your living space. We can transform a cluttered and cramped kitchen into an amazingly usable open space. If you want to make the most dramatic changes to your kitchen during the remodeling project, our team has the capability to help you with the effort.
Kitchen Cabinets
One of the most important aspects of any kitchen remodeling project is ensuring that you will have adequate and well designed storage in the area. Your kitchen cabinets are absolutely integral to how you and your family use the space. At the same time, they have a dramatic impact on the look and feel of the room.
Our kitchen remodeling contractors can help you design and install cabinets that are customized to both your functional and aesthetic goals. We can provide you with the advice and information that you need to know about the materials you will choose. You and your family will be absolutely enthralled with the results.
Kitchen Countertops
Your countertops are the primary work space in your kitchen. At the same time, they are the centerpiece of your aesthetic design scheme. As such, installing brand new countertops in your kitchen can completely transform the living space for the better.
At A & S Building and Remodeling, Inc., our professionals work with all conventional countertop materials. Here are just a few of the amazing options that we can install for you:
Marble countertops
Granite countertops
Metal countertops
Tile countertops
Wood countertops
Solid surface countertops
Laminate countertops
And More
If you are interested in our kitchen remodeling services, please call 413-230-9160 or complete our online request form.
Recent Articles
How to Plan a Successful Kitchen Remodeling Project for Your Hatfield Home - Whenever you decide to conduct a major home improvement project, the hardest and most important part of the effort is the planning stage. Far too often, people fail to conduct effective planning which can lead to frustration and delays throughout the actual remodeling steps. One of the best ways to develop your kitchen remodeling plan is to work hand-in-hand with … Read More
Major Changes to Consider When Investing in Bathroom Remodeling in Northampton - The bathroom is a highly functional living space. You and your family rely on the area each and every day to get ready in the morning. At the same time, your bathroom is a place where you can relax in comfort on the weekend. As such, when you customize this space during a bathroom remodeling project, you can vastly improve how you and your family use and enjoy your home … Read More