Porch & Deck Building Services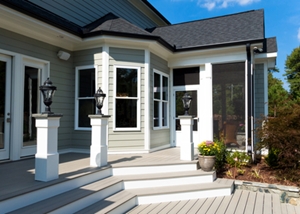 In order for you and your family to enjoy your home to the utmost, you need to be able to take advantage of all of the space available to you. This includes the outdoor space of your home. The best way to maximize the benefits of outdoor spaces is through well designed and constructed porches, patios, and decks. At A & S Building and Remodeling, Inc., our general construction and exterior remodeling contractors are here to help you create the most beautiful and rewarding porches and decks in North Hatfield and the surrounding areas possible.
Our highly skilled professionals take a great amount of pride and enjoyment from everything that we do. When you hire our team for your deck, porch, or patio construction project, we promise to work our hardest to achieve all of your unique goals and to provide for all your needs. Your complete and total satisfaction is our highest priority.
If you want build a beautiful deck, porch, or patio for your family home in Hatfield or the surrounding area, call A & S Building and Remodeling, Inc. Our courteous and polite staff would be happy to take your call and to assist you in any way that we can. Our team would be excited to schedule your appointment today.
Custom Deck Building & Patio Construction
At A & S Building and Remodeling, Inc., our porch and deck builders are dedicated to providing each of our customers with the most customized construction services possible. When we help design new patios and decks in North Hatfield and the surrounding areas, our team works its hardest to design an outdoor living space that is perfect for our clients. You can count on us to come up with a patio or deck design that will suit how you and your family use your home.
Whether you need a deck that leads out to a pool or your yard or if you want a patio that is perfect for evening time entertaining, our team can help you design and construct the perfect addition to your property. You are guaranteed to love your new deck or patio for years to come.
Porch Construction and Renovation
Having a well designed and beautiful porch is an amazing luxury. Nothing beats sitting back, relaxing, and reading a book while enjoying the weather on a comfortable and functional porch. Our highly skilled North Hatfield deck building and porch construction experts can help create and customize amazing space for you. From traditional front porches to back and wrap-around porches, our builders can do it all!
Our professionals can construct, expand, and remodel a porch for you. Again, throughout the entire effort, we will constantly stay attuned to your inputs. In this way, we can guarantee the you will be completely satisfied with the results of our efforts.
If you are interested in our porch and deck building services, please call 413-230-9160 or complete our online request form.
Recent Articles
How to Plan a Successful Kitchen Remodeling Project for Your Hatfield Home - Whenever you decide to conduct a major home improvement project, the hardest and most important part of the effort is the planning stage. Far too often, people fail to conduct effective planning which can lead to frustration and delays throughout the actual remodeling steps. One of the best ways to develop your kitchen remodeling plan is to work hand-in-hand with … Read More
Major Changes to Consider When Investing in Bathroom Remodeling in Northampton - The bathroom is a highly functional living space. You and your family rely on the area each and every day to get ready in the morning. At the same time, your bathroom is a place where you can relax in comfort on the weekend. As such, when you customize this space during a bathroom remodeling project, you can vastly improve how you and your family use and enjoy your home … Read More