Major Changes to Consider When Investing in Bathroom Remodeling in Northampton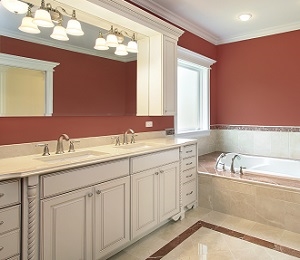 The bathroom is a highly functional living space. You and your family rely on the area each and every day to get ready in the morning. At the same time, your bathroom is a place where you can relax in comfort on the weekend. As such, when you customize this space during a Northampton bathroom remodeling project, you can vastly improve how you and your family use and enjoy your home.
Whenever you are conducting a major home improvement project, the first thing you should do is consult with a professionally licensed remodeling contractor. At A & S Building and Remodeling, Inc., our Northampton bathroom remodeling contractors would be honored to assist you with the entire effort. With our help, our team can ensure that you make the most impactful and rewarding changes to your property.
In order to help you get your project started, our experts have provided the following inspiration. Here are the major features that everyone should consider changing and customizing during their bathroom remodeling projects.
Northampton Bathroom Remodeling Made Easy: Install a Beautiful & Functional Sink
The sink in your bathroom is vitally important for two reasons. One, you use it every time you enter the living space. Second, it is the centerpiece of your bathroom vanity; therefore, it has a dramatic impact on the overall feel of the living space.
For these reasons, you should definitely consider installing a new sink that is customized to the ways in which you and your family use the area. Here are just a few amazing sink designs that our Northampton professionals can install for you:
Drop-in sinks
Under-Mount sinks
One-piece sinks
Vessel sinks
Wall-mounted sinks
And More
Expand the Space with Lighting & Mirrors
One of the most common complaints about a bathroom is that it feels cramped, so using the area is not enjoyable. Although it is relatively hard to add actual space to your bathroom, it can be amazingly easy to give the area a more expansive feel.
New lighting and mirrors can be designed in a way to make even the smallest interior bathroom seem larger and more enjoyable to use. Our experts can help you in this regard.
Customize Your Bathroom Fixtures
In the end, your bathroom is only as enjoyable as it is usable. If you do not have high quality fixtures in the area, you cannot take the most advantage from your bathroom. As such, you should definitely take the time to install new sinks, faucets, tubs, and toilets that are customized to your and your family. Our Northampton bathroom remodeling contractors can help you select the best options.
If you are interested in hiring a professional bathroom remodeling contractor in Northampton, MA call 413-230-9160 or complete our online request form.