Northampton Remodeling Contractors Dedicated to Excellence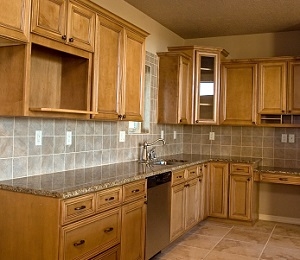 When you decide to make a major improvement to your home or business, you should work with a professionally licensed remodeling contractor. At A & S Building and Remodeling, Inc., our Northampton remodeling contractors have the knowledge, skill, and experience necessary to help you make the absolute most out of the effort. With our assistance, you are guaranteed to make the most impactful changes to your home or business.
For the highest quality remodeling services in Northampton, call A & S Building and Remodeling, Inc., today. Our courteous and polite staff would be happy to assist you in any way that we can. Our knowledgeable experts can answer any questions that you may have about our skills and services. We can schedule your appointment today.
Kitchen Remodeling Experts in Northampton
If any room is the heart of your Northampton home, that room is the kitchen. You and your family conduct some of your most important tasks in the area. From preparing family meals to hosting guests, the kitchen is integral to some of the most joyous moments that you share together. A kitchen remodeling project is the perfect way to improve all of these moments.
When you hire our Northampton kitchen remodeling contractors, your project is guaranteed to be a resounding success. We can help you with a simple project like installing new countertops, or we can completely transform the layout of your kitchen for you. Whatever your goals may be, our team will achieve them for you.
Bathroom Remodeling Contractors in Northampton
If you have never conducted a remodeling project, the bathroom is the perfect place to start. You and your family rely on the are to get ready in the morning. As such, any changes that you make can have a remarkable impact on your everyday enjoyment of your home.
Our Northampton bathroom remodeling contractors are here to help you with the effort. Here are just a few of the services that we proudly offer:
Bathroom design
Bathroom vanities
Bathroom cabinets
Bathroom fixtures
Bathroom countertops
Bathroom flooring
And More
Roofing Services in Northampton, MA
The most important portion of your property's exterior is its roofing system. Your roof provides your home with protection against the elements while having a dramatic impact on the look and feel of your residence. Our highly skilled exterior remodeling contractors can install and replace any type of roofing system. Our efforts will add long term value and enjoyment to your property.
If you are looking for a professional Northampton remodeling contractor for kitchen or bathroom remodeling services, please call A & S Building and Remodeling, Inc. at 413-230-9160 or complete our online request form.