Building Garden & Storage Sheds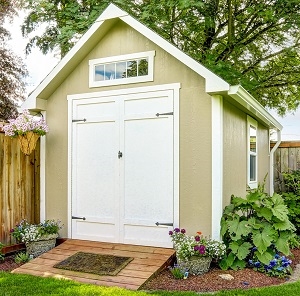 Having enough storage space around your property is absolutely essential. Without it, your home or business will be cluttered, disorganized, and hard to use. At A & S Building and Remodeling, Inc., our construction contractors help homeowners throughout Western Massachusetts improve the entirety of their properties by building garden and storage sheds customized to their unique storage needs.
In every service that we provide, our professionals work their hardest to achieve all of our customers' goals. When you hire our team for your shed construction project, we will bring this dedication to excellence to task for you. We will not be pleased with the results of our efforts unless we achieve your complete and total satisfaction.
Call A & S Building and Remodeling, Inc., today if you are planning to construct a shed for your property. Our staff can guide you through every stage of the effort ensuring that the end results are highly rewarding and extremely beneficial. We would be excited to schedule your appointment with one of our talented North Hatfield home remodeling and construction specialists today.
Custom Shed Construction
When you hire our construction contractors, there is no limit to what can be achieved. Our professional builders and remodeling contractors can help you create a beautiful and functional outbuilding that will accommodate all of your storage needs. Throughout the entire effort, we will listen to you at every step, ensuring that the end results are as customized as possible. You and your family are guaranteed to be completely satisfied with the results.
A New Shed Benefits Your Entire Property
When you construct a well designed shed around your home or business, you open the rest of your property to be used in a better fashion. Once you have more adequate storage, all of the living spaces and work areas will be more usable and accessible. This relatively simple effort will have resoundingly positive effects throughout your entire property.
Storage Sheds Make Yard Work Easier
Whether you are constructing a shed to house your landscaping equipment or to free up storage space in other areas of your property, all of the tasks that you conduct in and around your home will become easier and more enjoyable. Your tools and equipment will be readily accessible and well organized. Your other storage spaces such as your garage will be less cluttered and more usable.
In the end, your new shed will be a great addition to your property. You will always know who to trust with your future construction and remodeling projects.
If you are interested in our contractors building you a garden or storage shed, please call 413-230-9160 or complete our online request form.
Recent Articles
How to Plan a Successful Kitchen Remodeling Project for Your Hatfield Home - Whenever you decide to conduct a major home improvement project, the hardest and most important part of the effort is the planning stage. Far too often, people fail to conduct effective planning which can lead to frustration and delays throughout the actual remodeling steps. One of the best ways to develop your kitchen remodeling plan is to work hand-in-hand with … Read More
Major Changes to Consider When Investing in Bathroom Remodeling in Northampton - The bathroom is a highly functional living space. You and your family rely on the area each and every day to get ready in the morning. At the same time, your bathroom is a place where you can relax in comfort on the weekend. As such, when you customize this space during a bathroom remodeling project, you can vastly improve how you and your family use and enjoy your home … Read More